Have you ever felt the kind of heat near a machine that runs continuously? Just like we humans crave a cool and refreshing drink during a hot day, Industrial machines need a Chiller to cool them down.
Nowadays all commercial buildings and industries opt for Heating, Ventilation and Air Conditioning (HVAC) systems to cool the building. A Chiller is one such essential HVAC component used in a wide variety of commercial facilities.
What is a Water Chiller?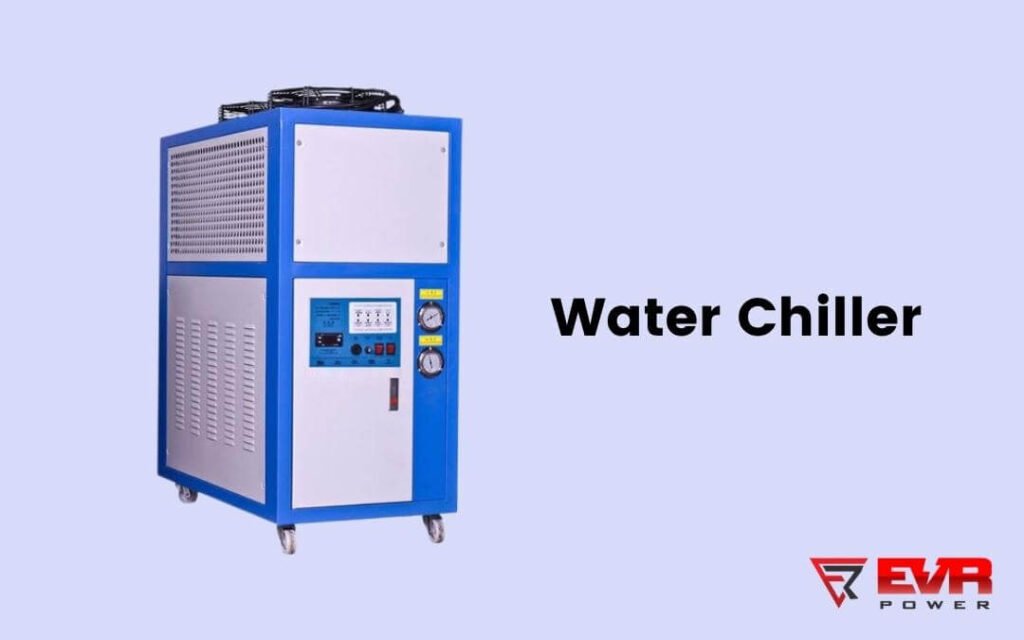 A water chiller is a device that eliminates heat from a room or a piece of equipment by circulating a liquid such as water or a cooling liquid through it. Depending on the type and use of a water chiller and the required temperature, the refrigerant in a water chiller can be liquid or gas.
The cooled liquid used in a chiller is generated either by utilizing absorption or by compressing a liquid from its vaporized form.
Why Water Chillers are necessary?
Industrial equipment operates under varying conditions and generates plenty of heat during the process. It is vital to control the temperature of the equipment in order to increase the quality of products, maintain efficiency and increase the lifespan of the equipment. Therefore, Industrial chillers are installed to lower the temperatures of this equipment and keep them under safe operating conditions.
Hence, it is absolutely necessary that industries in Chennai purchase water chillers from only the top water chiller manufacturers in Chennai.
How does a Water Chiller work?
The basic components of a Chiller include – a refrigerant, an evaporator, a compressor, a condenser and an expansion unit. The process starts when a low-pressure refrigerant enters the evaporator. The refrigerant is then heated in the evaporator, causing it to undergo a phase change into a gas. The gaseous refrigerant goes into the compressor which increases its pressure thereby removing the heat and lowering the temperature of the equipment.
The main difference between an Air conditioning unit and a Chiller unit is that Air conditioners dehumidify the air while the Water Chillers cool down fluids and lower the temperature simply by removing heat. These units are not cooling or chilling anything but rather they simply remove the heat.
Types of Chillers
Chillers are broadly classified into two types – Air Cooled Chiller and Water Cooled Chiller.
1. Air-Cooled Chillers
This type of chiller has a condenser that is cooled by the atmospheric air. Air-cooled chillers are preferred for small or medium installations.
2. Water-Cooled Chillers
They have a water-cooled condenser connected with a cooling tower and are usually preferred for medium and large installations where there is enough supply of water.
In today's market, there are many manufacturers providing custom cooling solutions based on the client's requirements. While this provides more choices for the customers, it also makes it difficult to decide on which product to buy.
That's why we have compiled for you the list of the Best Water Chiller Manufacturers in Chennai.
1. EVR Power
Establishment: 1998
Location: Plot.No.64, Ponni Amman Nagar, Ayanambakkam, Chennai-600095.
EVR Power is a reliable and renowned water chiller manufacturers in Chennai. EVR's water chillers are made under the supervision of skilled technicians by employing high-quality components, cutting-edge technology, and innovation to deliver tailored cooling solutions.
They are designed in such a way to provide consistent performance across a wide range of applications. They are relatively independent of fluctuations of ambient temperature thus making the longer lifespan of the product.
At EVR Power, we care deeply about the quality of the products we deliver and aim to give our customers, value and expected performance that is comparable with global standards.
Our engineers at EVR Power scrutinize our finished products along with pre-setted guidelines of the organization and reject those that fail to match the performance as per the specifications. Our Water chillers are preferred for larger installations across various industries.
And because we focus more on giving the best to our customers, we have captured the position of the best water chiller manufacturer in Chennai.
Available Chiller types: Air Cooled Water Chiller, Water Cooled Water Chiller, Oil Chillers, Energy Efficient Chillers.
Clientele: Renault Nissan Mitsubishi, TVS Sundaram Fasteners Ltd, India Pistons Limited, Brakes India Pvt Ltd, NTPC, TRW, etc.
Website: https://evrpower.com/
2. Werner Finley
Establishment: 1986
Location: No.17, 4th Circular Road, Jawahar Nagar, Chennai-82
Werner Finley has over 3 decades of experience in providing high-quality process cooling solutions for customers across different industries in Chennai. They are one of the leading manufacturers of cooling solutions like Water Chillers, Coolant Chillers, Hydraulic Oil Chillers, Panel Air Conditioners, Coolant Filtration Systems, and much more. Werner Finley's chillers are manufactured using heat transfer technology using the vapour compression refrigeration cycle. They are built using components that avoid excess energy consumption thereby cutting down the operating expenses of the buyers. The Company offers different types of Chillers like Oil Chiller with capacity ranging from 1.75 kW to 35 kW, Air Cooled Chiller with 1.75 kW to 1050 kW capacity, and Water Cooled Chiller with 17.5 kW to 462 kW capacity. All products undergo visual, dimensional, and functional testing to ensure durability, reliability, and excellence.
Available Chiller types: Oil Chillers, Air Cooled Scroll Chiller, Water Cooled Scroll Chiller, Energy Efficient Chillers, Smart Screw Chillers.
Clientele: GE, Philips, EFD Induction, GH induction, Jyoti CNC Automation, Rittal India GF Agie Charmilles, Bruker, etc.
3. Freeze Tech
Establishment: 1998
Location: 141, Developed Plot, Industrial Estate, Perungudi, Chennai-600 096.
Freeze tech is one of the prime water chiller manufacturers in Chennai. They specialize in offering custom refrigerant solutions to fit specific industries that need an effective cooling system. They have a wide range of cooling products like Chillers, Oil Coolers, Panel coolers, and air conditioner process equipment. Freeze tech employs highly skilled technicians that pick best-in-class components and the latest technology to produce high-quality cooling equipment. Rigorous testing is done at each stage of production to ensure 100% fail-proof products are delivered to its clients. Freeze tech also undertakes repairs for all types of Industrial Refrigeration & Process Cooling equipment.
Available Chiller types: Air Cooled Chiller, Water Cooled Chiller, Glycol Chillers, Hydraulic Oil Chiller, Coolant Chillers, etc.
Clientele: Varied client base across food processing, Plastic processing, Off-Set printing, Metal treatment, and Chemical industries.
4. Chilton
Establishment: 1984
Location: New no. 8, Parthasarathi kovil 2nd Street, Ekkatuthangal, Chennai-600032.
Chilton is a pioneer in the design and manufacturing of industrial refrigeration products and solutions in Chennai. In addition to offering Air-cooled and Water-cooled Chillers, Chilton design, develop and manufacture custom industrial chillers according to the customer's needs. It uses the latest technologies like AI/IOT that continuously monitor the performance of the chillers and send SMS alerts in case of any abnormalcy thereby preventing shutdowns and maintenance costs. Chilton is also known as a renowned refrigeration spare parts dealer in South India.
Available Chiller types: Industrial Process Chillers, Water cooler and Air-cooled Chillers.
Clientele: Hindustan Unilever Limited, BHEL, V-Guard, BHEL, Bharat Petroleum.
5. VGS Raghavendra
Establishment: 2008
Location: SP-129/1, 3rd Street, III Main Road [Near WABCO TVS], Ambattur Industrial Estate, Chennai-600 058.
VGS Raghavendra Cooling Systems is a reputed manufacturer and supplier of Chillers in Chennai. They are backed up by deft professionals who have rich industry experience in the manufacturing of cooling products. All products are quality tested and ensured for durability, reliability, and energy efficiency. They have earned the trust of many big clients across various industries in India.
Available Chiller types: Air Cooled Water Chiller, Water Cooled Water Chiller, Hydraulic Oil Chiller, Coolant / Cutting Oil Chiller, Immersed Oil Chiller, etc.
Clientele: Sundaram Hydraulics Ltd, Lucas Tvs Ltd., ITC Limited, Integral Coach Factory, Caterpillar India Ltd, Brakes India Ltd Chennai, Pro Scans, Renault Nissan Automotive India Pvt Ltd.
Conclusion
If your facility uses heavy-duty machinery that generates heat, Cool them down with EVR Power's chillers. We have been one of the top water chiller manufacturers in Chennai. Our customer-centric approach has benefited a lot of our clients as we provide unique cooling solutions. Contact our team today to learn more about how we can help with all your process cooling needs.
If you have any experiences of using any types of chillers or have opinions on this topic, feel free to let us know in the comments. Have a great day!