Electroplating Rectifier Manufacturers
As a large number of electrical and electronic circuits need DC supply for their operation, it is necessary to convert the alternating current (AC) to (Direct current) DC voltage. This is what a rectifier does.
A simple electroplating rectifiers consists of one or more diodes that convert AC into DC by allowing the flow of current in only one direction.
So, how exactly does an electroplating rectifier work?
An Electroplating Rectifier is a device that is used in the electroplating process to convert AC (alternating current) into a DC (direct current) voltage supply. The plating process requires DC electric current to deposit the coating material onto the metal part. The conductors are dipped into the plating tank, and DC will be applied by the electroplating rectifier that is between the electrode and the parts.
This application of DC current causes positive and negative electric-field driven attraction that results in the deposition of the coating on the metal.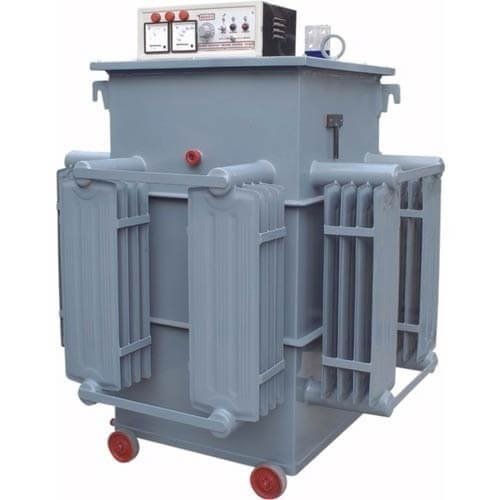 Why do we need Electroplating Rectifiers?
The DC supply which is essential for the electroplating process can come from either a low-voltage generator or a Rectifier. In the initial days, Generators were used as a source of direct plating current, but because they were very costly to acquire and maintain, the rectifiers have become a cheaper alternative.
Why Choose EVR Power as your Electroplating Rectifier Supplier?
We offer the premium service to the customers both in terms of knowledge and product, and that makes us the number one choice in the customers' minds when they think about Electroplating rectifier manufacturers in Chennai.
As you can see, the electroplating rectifiers play a vital role in the electrochemical process like hydrogenation, anodizing, electroplating, and more. Therefore, it is time for you to choose the best electroplating rectifier manufacturers in Chennai like EVR Power for your company. 
Backed by a panel of dedicated engineers and technical personnel, we are noted as the pioneer electroplating rectifier supplier in Chennai. Our electroplating rectifiers and IGBT chopper rectifiers are widely used in various applications such as electro mining, electrochemical, electrorefining, electroplating, and other specialized applications in industries across Pan India.
Salient features of EVR's Electroplating Rectifier
EVR Power's Electroplating rectifiers are designed with high-frequency switching technology in a modular design package that converts the transformer secondary AC voltage to a regulated output DC voltage.  There are many features that make our product best in the market. Some out of many are listed below,
EVR Power, the front runner of electroplating rectifier manufacturers, employs cutting-edge technology in the electroplating rectifier manufacturing process to achieve high current, high frequency, and high working rate pulse output.
Our rectifiers have been highly efficient with less power consumption and significant amount of electricity-saving than other silicon rectifiers and have reduced the operation and maintenance costs of our clients.
Our products are engineered, designed, manufactured, and tested to internationally recognized standards to deliver you top-notch quality. The rigorous testing of the equipment enables trouble-free service for long life.
The coating requirements necessitate the controlling and filtering of the ripple voltage to achieve a high-quality finish. That's why we provide you quality-assured products with a low ripple factor. Our 1-year guarantee of the product covers defects in design, materials, and manufacturing. 
In EVR power, you get what you ask for. To best suit your requirement, our rectifiers are customized with auxiliary equipment as per your required specifications that include switchgear, power factor corrections, harmonic filters, heat exchangers, and free-standing cooling systems. Because we owe you the value for your money.
Specifications of our Electroplating Rectifier
Input Voltage: 220 –  440 volts, AC supply
Input Phase & Frequency: Three-phase 50 Hz
Output Voltage: Fixed Rated maximum DC voltage
Configuration: ANSI
Pulse sets: 6, 12, 18, 24, and higher
Efficiency: > 90%
Guarantee for the product: 1 year
Warranty for the product: 1 year
It is essential to choose a rectifier with correct technical specifications and capacity based on the production capability.
Our well-experienced sales professionals provide you with value-added insights on the selection process and will help you pick the right one for your industry. It doesn't end there. Our 24/7 support team is ever-ready to address your queries. After all, our aim is to always delight our customers.
We are one of the superior-quality electroplating rectifier manufacturers in Chennai and Tamil Nadu.
EVR Power's premium range of Electroplating rectifiers is best suited for mass production of consistent and economical electroplating.

They are used in industries employed in Copper plating, Chrome plating, Nickel plating, Tin plating, and various other precious metal platings.

They form an essential part of electrochemical processes such as hydrogenation, anodizing, electroplating, etc.

Electroplating rectifiers are also used in electro-galvanizing and metal recovery applications.
1. What is the purpose of the Electroplating Rectifier?
An electroplating rectifier is an equipment that converts alternating current into direct current. Silicon rectifiers are widely used in electroplating, anodizing, hydrogenation, as well as other kinds of operations. to know more about Electroplating Rectifier Manufacturers in Chennai check out our website.
2. How does Electroplating Rectifier work?
Electroplating is basically the process of plating a metal onto another metal by putting them in acid completely dunking both metals into the acid for corrosion prevention or creating another layer for decoration purposes. It uses electric current to reduce dissolved cations while there are two different metals submerged in the acid.